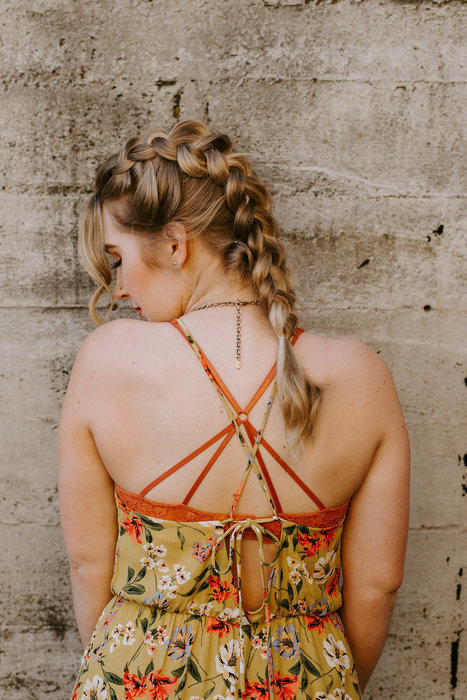 Spring 2018 
We had so much fun shooting our Spring 2018 Lookbook a few weeks ago with yet another amazing team of women! Kiana Lindsey, the photographer, was so thorough and detail oriented in capturing the day. She produced so many amazing photos that we just had to share some of our favorite out takes and behind the scenes shots! 
Our glam squad for the day was Leah Kooistra for hair and Laurel Bareman for make up. We got ready at Studio 104 in Lynden, WA, which has the cutest layout for a salon! It's in an old house, with glam stations set up all in different rooms, so we basically had our own private glam room for the shoot! Leah styled some beautiful braids on the models, which were exactly what I had in mind for the looks, and Laurel used the perfect tones to create a soft, natural make up look with just the right pop of subtle lip color. 
One of Kiana's specialties is in senior portraits, so we wanted to give this shoot that senior photo vibe. Our models, Anya Seeger from Bellingham and Madelyn Nolte from Lynden had never met before, but totally hit it off during the shoot! They shared so many stories, and it seemed like someone was always laughing! It was really fun to watch a new friendship emerge through out the day. 
It's rare we get a shot of me on location because I'm usually darting around and holding all the things, but Kiana managed to snap one of me as I unwrapped a necklace and "held" a hat on my head to free up my hands. Not pictured: my pockets sagging with everyone's phones and keys, including Anya's giant red fuzzy keychain bobbing around. We definitely got some odd looks from passerby! 
This season is all about flirty florals, bold color, the sweetest back details, and our new spring shoe collection! There's so much more in store than what we could capture in the six looks I chose for the shoot. Marigold yellow, stripes done in new ways, tucked and knotted tops, jumpers, beachy boho bags, and some really cute and colorful flats are some of the other trends we're really excited about this season! I decided to call this lookbook Urban Flowers for the re-emergence of color, floral prints, and lace–yet the Fringe girl does it in her own downtown style, throwing on a cool jacket or bold piece of jewelry to give a little edge to a feminine look. 
I'm so happy with how the lookbook turned out, and it's always a really inspiring experience to get to work with all the different talented and creative women in our community. This was also a really special shoot for me, as it was the first one where I was able to style full head-to-toe looks all from Fringe! It's so exciting to have shoes in the shop now and to be able to create an all-Fringe look.
Apparel & Accessories: Fringe Boutique
Models: Anya Seegers & Madelyn Nolte
Hair: Leah Kooistra
Make-up: Laurel Bareman
Photography: Kiana Lindsey Photography